An October Tour
by Dave Barry
I sold it to him too cheaply, but with a choice of other bikes in the shed, I didn't have time to ride it and I knew he'd look after it, a '77 BMW R100s. He's a good mate, and I told him that I wanted first dibs if he decided to part with it. Cam flew to Brisbane, put new tyres on it, and rode it back to Perth.
Only a couple of years later a medical scare has caused him to rationalise his shed, and a phone call gave me first dibs, and he offered to bring it to Adelaide for easier collection. So there we were in Adelaide, with a Harley and an R100s in a trailer, and a grand plan. Charlie from the Hunter Valley met us there on a BM GS, and we set off for the Great Ocean Road, rural Victoria and some high country.
Why wouldn't you take a road into the Hills called Gorge Road?-so we did, and it was an excellent run up to Birdwood for the Motor Museum, which has an interesting display but only one Guzzi. There's a couple of quarries on this road, so beware of the trucks taking the corners wide. Country roads from Birdwood south through Hahndorf and wine regions were scenic and we were soon skirting the Murray River at its wider end on good roads under blue sky. There's been scant royalty at The Prince of Wales hotel at Penola, but it was sufficient accommodation for us.
We rode East into Victoria on back roads to Casterton and then turned South towards the coast. For some reason I've never seen a koala in the wild. We stopped at The Heywood bakery for breakfast, and there, climbing a tree on the footpath in front of the bakery, was a koala! In the main street of the town. Breakfast to remember. From there we took some local advice for the best way south (i.e., avoiding the highway), and soon after we were looking at an angry Southern Ocean at Port Fairy, chopped up by a stiff breeze. Wind turbines dot the coastline here, so I presume the breeze is a common factor. We recaffeinated at Warrnambool and proceeded East under brooding skies along a Great Ocean Road with strangely no coast in sight. There is plenty of lush farmland and dairy herds along here, before the road descends to the coast near Peterborough and generally follows the shore. We were astounded often along this road by slow moving hire cars filled with Asian tourists busily photographing everything including cows, fences, sheds, tractors, grass, machinery, with no thought for other road traffic. A few times, these hire cars just stopped in the middle of the roadway for the occupants to gawk and snap at the scene. Be wary of lethargic hire cars if you are planning a trip in this area.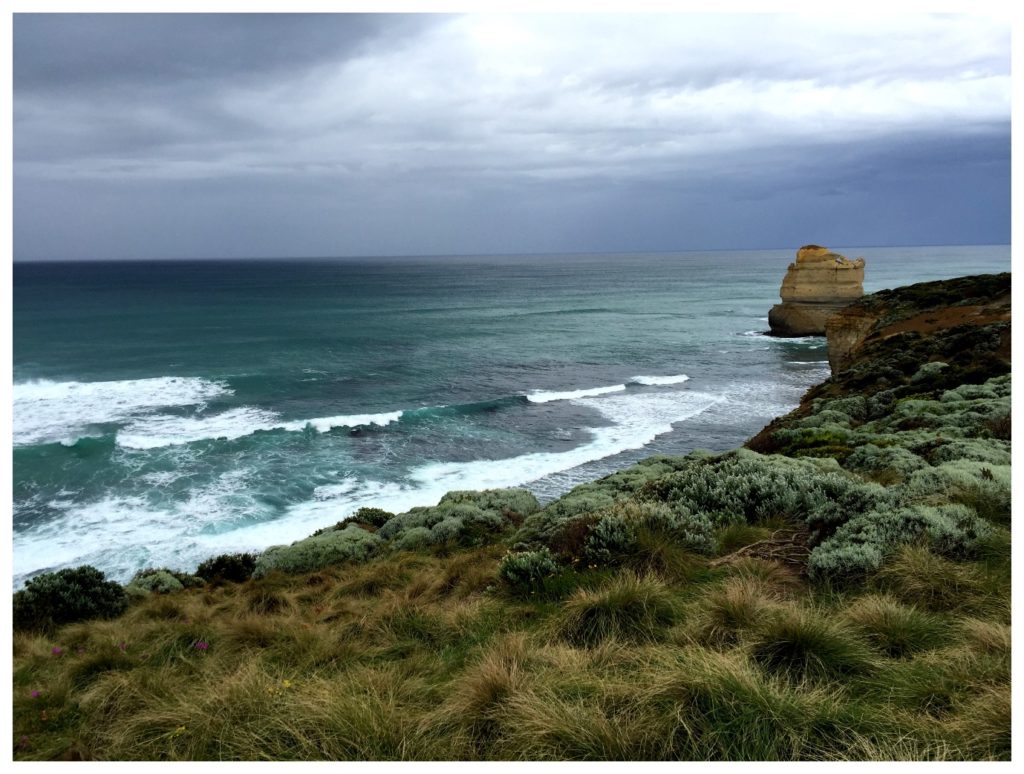 The coastal ride was nice, but the weather was closing in, and frequent stops for roadworks was spoiling the run. The road deviates inland to Lavers Hill, where we sat for coffee and watched the pouring rain blown through the tree tops and out to sea. So here we abandoned the coast and rode north through the Otways on a road that would be great, dry. But it was wet, greasy and mossy, with tree debris everywhere, so it's a road to be ridden properly another time. Colac Central motel was warm and dry, with a Thai restaurant over the road. What more could you want?
The next day was brighter, so we went back over the Otways to Skenes Creek on the coast, then continued east on the G.O.R., so worthily named. We skirted Geelong and rode north and at Ballan we noted a roadside public servant with a single client, and he looked cranky knowing that in serving one customer he'd missed three. Broadford, Yea and Yarck all slipped past easily through great scenery on the way to Mansfield and the Delatite Hotel, where the food was the highlight, and the bikes were parked in the locked courtyard overnight.
The Harley required some tool work in the morning, without too much delay.
This day's destination was Khancoban, via the Spaghetti Rally at Edi. The road down into Whitfield was excellent, and we seemed to get there just early enough to see some public servants setting up a stall, so that bike riders later on this great road might be all attended to.
And so It was Friday morning when we visited the Spaghetti rally, with the reception/bar tent already set up, and a few campers casually installed. The few Guzzis were probably outnumbered by BMWs at this stage, but it looks like a good venue next to a nice little river with friendly people. If they get a hundred attendees, it's considered very successful I was told. The Budgie, or Imbil, would make their eyes pop. It was a short investigative visit, to find that the Spaghetti Rally would be worth attending in the future. And no, no spaghetti was offered.
From Edi we took back roads through Oxley, Everton, Beechworth and Tangambalanga (I'm not making this up!) to Tallangatta on the shore of Lake Hume, where we stopped and let that great bit of road and scenery sink in to us. There are plenty of bumps on the horizon around here, and more to the east. We followed the Murray towards it's source and stopped for a beer at Tintaldra, where the publican avowed that he was from Morningside. Here we were joined by two more mates to continue the trip. We crossed the narrow end of the Murray and rode on to Khancoban caravan park.
Saturday morning at the Kosciuszko Rally was pretty quiet, despite the excellent location. The ACT BMW club essentially ignored us, despite there being three BMWs in our group, with one 40 years old with W.A. plates. The Geehi Hut site is worth the trip though. It's a tight, windy road from Khancoban to Geehi that puts a smile on your face, and the bumps on the horizon seen from Scammell's Lookout had plenty of white stuff on top.
Time was escaping us for this trip. We went back through Khancoban and then on towards Tumut via Tumbarumba road and Elliot Way, through rolling hills seemingly dipped in green paint. These roads were some of the highlights of the trip, and will definitely have my Le Mans Mk 5 on them one day. Tumut to Gundagai via Brungle was a good back-road run, and we found the Binalong Hotel booked out for a fortieth birthday, but the excellent Royal Tara Motel had space. The restaurant at this motel was very popular, and the steak eaters were moaning with praise. Really.
Cam left us here and took his Harley back to Adelaide. He'll need to get his boots re-heeled after this ride, which he said "spoilt" him. There aren't many beautiful, scenic, curly, hilly roads in W.A. The rest of us zig-zagged our way back to the Hunter Valley through the usual worthy roads, encompassing Gunnery, Frogmore, Blayney, Sofala, Rylstone, Bylong and Jerry's Plains, all through dry, scrappy bush that had obviously missed the green paint brush that was so liberally applied south of the border. We four parted ways at Singleton, and by the end of the next day, there was a R100s parked next to the Mk 5 in my shed. Again.
D. Barry.